Archive for October, 2012
Holy it's Thursday already, Tiger Fans,
As you all know, Homecoming week means cold, rain on Friday night, and beating as bad a football team as we can find (I'm looking at you, Oklahoma of 2010) to play.  In longstanding tradition, this year Homecoming will be against a team wearing blue whose fans don't really even know football exists.  Kick off against UK is at 11:00, which means early tailgate time and breakfast galore.  Come when you will, bring what you will, win Tigers.
I know almost nothing about our opponent this week, which just makes it all the easier to pretend they're from the west, wear red socks, celebrate their vagabond history, and have regularly been on probation for illegal basketball recruiting.  Go Tigers, and on a side note, screw UK.
Hello football fans,
Saturday, the Tigers get back to their winning ways when #1 Alabama comes to town.  Kick off is scheduled for 2:39, you'll want to be in your seat on time as Gahn McGaffie runs back the opening kickoff, Oklahoma style, as Mizzou starts their upset.  We'll be at the tailgate early, come when you will.  Jim and Jessie Yankee, of Flat Branch Home Loans and Easy PC, respectively  are taking care of the meat this tailgate, via D. Rowe's.  Smoked wings, pulled pork, and brisket are on the menu.  Bring a side or dessert, if you like, and call Flat Branch for all your home loan needs and Easy PC for your IT issues.
At this point, we've all heard all we care to about the illustrious SEC and how cool they (we?) are.  Their dress, their attitude, their tailgating, etc.  In rebuttal, I present two pictures of Bama fans (courtesy of outkickthecoverage.com).
They're not so cool.
Go Tigers, beat Bama.
I finally have a scanner operational again, so here's some selected writings from Jack's time in first grade.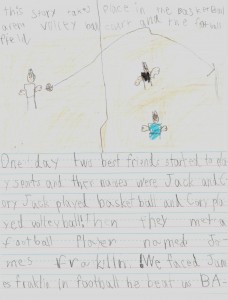 This story takes place in the basketball arena volley ball court and the football field.
One day two best friends started to play sports and ther names were Jack and Cory Jack played basketball and Cory played volleyball!  Then they met a football player names James franklin!  We faced James franklin in football he beat us BA-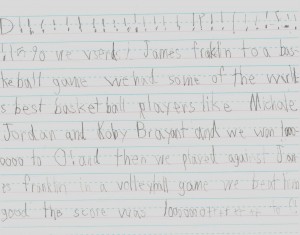 D!!!!!!!!!!!!!!!!!!!!!!!!!!!!  We vserd (versed) James fraklin to a baskeball game we had some of the worlds best basketball players like Michale Jordan and Koby Brayant and we won 10000000 to 0!  and then we played against James franklin in a volleyball game we beat him good the score was 10000000011111111 to 0!
Story 2, The Tryouts.  This one is about when he tried out for Upward Basketball last year. (Also written in 1st Grade)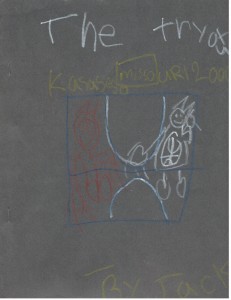 The tryouts
Kasasas 0 Missouri 2000
by Jack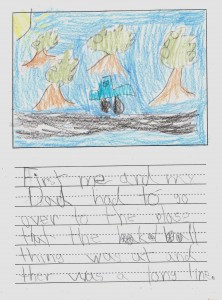 First me and my Dad had to go over to the plase that the baketball thing was at and ther was a long line.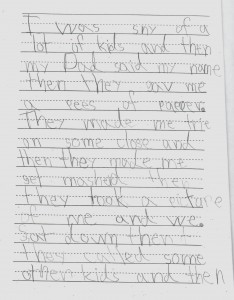 I was shy of a lot of kids and then my Dad said my name then they gav me a pees of paeper.  They made me trie on some close and then they made me get masherd then they took a picture of me and we.  Sat down then they called some other kids and then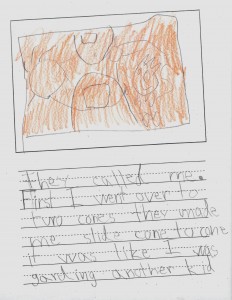 they called me.  First I went over to two cones they made me slide cone to cone it was like I was garding another kid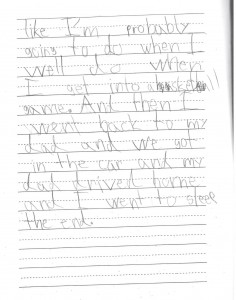 like I'm probably going to do when I well do when i get into a basketball game.  And then I went back to my dad and we got in the car and my dad drived home and I went to sleep the end.
Howdy football fans,
This weekend the Tigers take on the Commodores from Vanderbilt University.  Game time is at 6 p.m.  We'll be tailgating again, naturally, in Lot D.  Lot D, for where the good things happen.  Not Lot G, where things happen that make me say damn.  Lot D – we're for good times.  My folks are bringing ribs for the main fare.  Bring what you will.  I'll be there early, I'm sure.
I haven't looked at the schedule in a while, but know we have 3 consecutive home games.  After the win at Central Florida last week, I'm certain it's all on track and we're in for nothing but wins in October.
Go Tigers, beat the Dores, screw ku.