Archive for September, 2015
You're awesome.  When you were born, I literally had to sit down before I'd let the nurse give you to me.  You (and the situation) took my breath away then, as you've done many times since.
You make me proud every day.  You have more talents and positive traits than I could possibly list.  Determination, dedication, and consideration are among the top of that list though.  I sat down that day, but I now stand and applaud you for being you.  You're a great person, which I'll insist on still calling kid.
If your dad writing a note on the internet for your 13th birthday isn't a great present, well then I just don't know what is.  Happy 13th birthday!
Howdy ho, football loving friends,
I've long known there's a football game tomorrow, I'm just late on the email-writing draw.  Our beloved Tigers face the Huskies from Connecticut tomorrow, kickoff is at 11:00.  (or 11:01 or some such.)  To no one's surprise, we'll be there for the tailgate.  Breakfast stuff is the stuff of the tailgate.  Bring some if you like.
I have nothing funny to say about UConn.  I don't like them, so there's that.  But that's not very funny.  The Tigers will win, hopefully in a slightly funny way, to make up for my lack of jokes.  3-0, that's the plan, on the way to 15-0.  go Tigers.
Other important news for tomorrow, it's one again Tiger Stripe day at the stadium.  Sadly, that doesn't mean free ice cream for all.  It does mean you need to check the attached map of the stadium and know where you're sitting, to know what you're supposed to wear.  (if you're sitting with us, wear gold.)
Other important news for tomorrow, the Golden Girls are celebrating 50 years of existence.  Give it up for the Golden Girls!
During Saturday's game, the Golden Girls have a special halftime tribute that should keep Mizzou fans in their seats as the squad will pay homage to all of those who donned the gold sequins over the last 50 years.
Sadly, ku can't lose this weekend, although I did put $20 on BYE just for fun.  screw ku.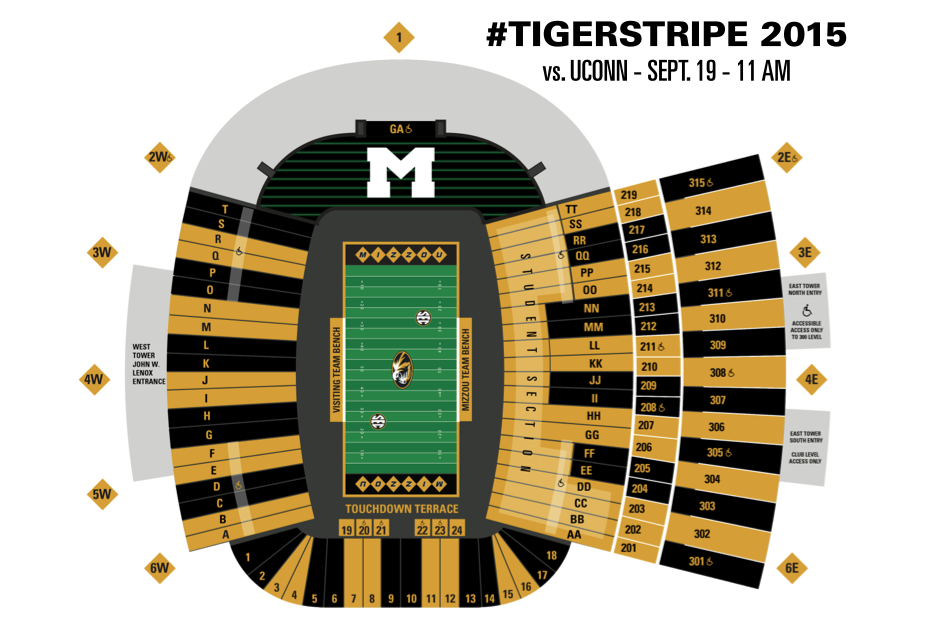 Happy New Year, Tiger fans!
On Saturday, the beloved boys in black & gold (but probably all black) take the field for the first time in too long, hosting the Red somethings-or-other from Southeast Missouri State.  As is traditional for the first game, it will be miserably hot.  Kickoff is scheduled for 3:00 p.m., but I plan to be there well before that.
Tailgate is in the same spot for at least one more year.  My parents are bringing ribs. I'm bringing tents and chairs and tv and chandelier and such.  If you'd like to bring something, a side item or a dessert would likely be eaten.
Beat SEMO, eat Semo ribs.  yay, FOOTBALL!!
p.s. speaking of football, screw ku.