Archive for the 'Sarah Wins' Category
Chris Maupin and the Board/Staff of the Rocky Mountain Cancer Assistance are putting together another round of Everything Changes for this summer.  The brief version of Everything Changes is this:  good friend Lance Jungmeyer wrote and recorded the song Everything Changes after Sarah died, also as a way to deal with the recent loss of his father-in-law.   We played it at the funeral services.  Chris Maupin had a few ideas about the song.  The one that eventually took hold was turning into a musical charity event, with each band playing their version of the song as part of their set.    (For a longer version, here's my post at the time.)
The third version of Everything Changes is set for July 26, 2013, at 7 p.m. at Casselman's in Denver.  Rachel and The Kings, Mega Gem, Chemistry Club, and others are the featured entertainment.  You can see full details at the RMCA website here.    Tickets are available now.   Kim & I are going out for it, not sure if full family will accompany or just the two of us.  We look forward to the trip and seeing good friends, good bands, and hopefully you.
On a side note, Go Tigers,  and screw ku.
I think I've mentioned this in this space before, but I donated a bunch of Sarah's photos to the State Historical Society of Missouri.  I went through and sorted all her negatives, prints, and such, and then gave some to various folks around town, while the majority went to the historical society.  I intend to do the same thing with the digital files, but just have never gotten to it.
The folks at SHSM emailed me yesterday with an inventory of what they have.  It's not terribly descriptive, I think they'll go back thru if/when they ever have more time, and add more detail.  But, if interested, their inventory is linked here.
I've started going through Sarah's digital photos, a task that's kept me up late several nights this week.  Ultimately, many (more) of them will be going to our zenfolio site.   I've added a bunch of basketball photos there recently, but it's really not anything much that wasn't already on the basketball section of becking.com.  I'll ultimately be putting a lot of Columbia College, other Mizzou sports, and some of the portraits and wedding stuff she took.
Anyway, while going through the basketball photos, I stumbled upon the fact that she'd taken photos of every Mizzou basketball head coach since 1967.  Of course it helps a lot that Norm coached for 32 years.  Here's some of them:
I'm going to go all Cee Lo here.  It's not aimed at most of the employees that work(ed) in your joint.  Many were fine. Some were exceptional.  Some of the nurses especially. Some were likely good and I've unfairly judged them.
However.
To the first overnight ICU nurse, who was 100% oblivious to how much pain Sarah had been in for the past 12-hours, which was obvious to me the first time I saw her…
To whomever was responsible for the archaic ICU visiting rules that I eventually ignored, and convinced them all they weren't going to keep us from ignoring…
To the nurse who argued about washing her hands when entering the room while Sarah was in general population…
To the doctors and nurses in general population who couldn't quite decide whether Sarah's blood-oxygen levels were important or not, alternatively taking off and putting back on the monitor…
To the respiratory therapist who left the room during the night rather than perform breathing treatment, because Sarah was having a hard time getting out of bed…
To the doctor who wouldn't come back in to the hospital to check on Sarah's breathing, and the hospital that wouldn't allow another doctor to look at her, until I was screaming on the phone at him while looking for a wheel chair to take her to the emergency room myself…
To the doctor that later told me we were "lucky he decided to come back in to check on her breathing"…
To the respiratory therapist who opened the seals on the breathing equipment with the blue ball-point pen she had in her back pocket…
To the ICU nurse who told me to leave when they brought Sarah back in…
To the same nurse who told me they would put restraints on her "if she keeps acting like a child" while she struggled against that forsaken BiPAP machine while half-conscious…
To the doctor that would speak clear English when delivering good news or just checking in, but could become undecipherable when delivering bad news (or, in fairness, was tired)…
To the group of doctors that showed up in their fancy outfits to talk to us in the waiting room, telling us how lucky we were they were paying attention to us, essentially framing their CV's and presenting them for our bowing pleasure, after I requested the group pay more attention to Sarah, rather than depending on just the one doctor…
To the same group that then paid no more perceivable attention to Sarah, relying still on the one doctor…
To the resident physician who told me "medicine by committee is no way to treat a patient"…
To the doctor who consistently and repeatedly ignored our answers about whether Sarah was habitually taking any medicine they were unaware of prior to surgery…
To the doctor (or group, I honestly can't remember), who told me they'd "only had one patient die"…
Three years ago I was living in your hospital.  I'd run across the street to buy new underwear, t-shirts, or shorts, because I could do that in 5-minutes rather than do laundry.  I ate every meal in the cafeteria or Subway across the street.  Many others in the family did as well.  The kids last saw their mom in that miserable general population room, struggling to breath, with everyone trying to figure out what to do next.
I have absolutely no doubts that the surgery part of the stay was a resounding success.  I know Sarah did everything she was asked to do beforehand, and to the best of her ability while she was awake post-surgery.  I have no real idea if any of the above played a part in the final outcome.  I know I'm still unbelievably pissed off and have exactly no more delusions that the outcome was right, just, or fair.
I drove about 3 hours the other day from Nogales to Phoenix, AZ…. All I did the entire drive was remember your hospital.  I didn't mean to, it's just how it was.
Don't do any of that shit to anyone else.  None of it.  The resident is lucky I didn't throw him out the window at the time. I can't think of anyone whose opinion I less valued at that moment and they clearly needed all the help they could get. As is the jackass who told me they'd only had one person die.  I know it's hard.  I know it's work.  I appreciate that you're certainly generally trying to do good.  Remember that the people in the waiting room know the patient much better than you're ever going to.
Remember Sarah, and do good.
Every year, as part of Partners In Education, Grant Elementary students' artwork is selected for the "Hall of Fame."  About 20 pieces are displayed first in the gallery at Boone County National Bank (Grant's Partner In Education).  After about a month, the artworks is moved to Grant where it will hang in various places around the building for years to come.  At the "unveiling" each student stands in front of their artwork and talks a bit about it.  All in all, a cool thing.  Below are a couple of photos of Adelaide and "Baton Twirler" and from the event.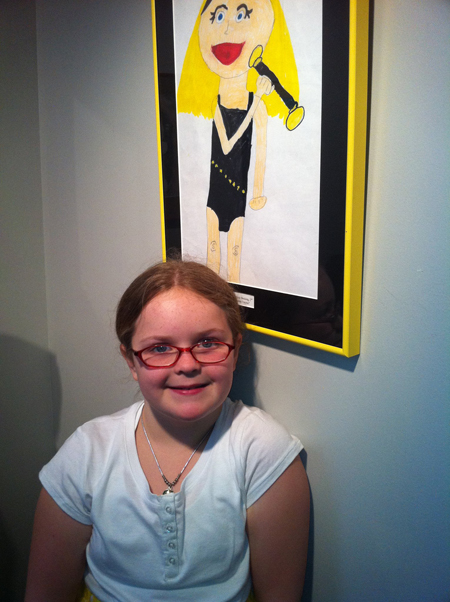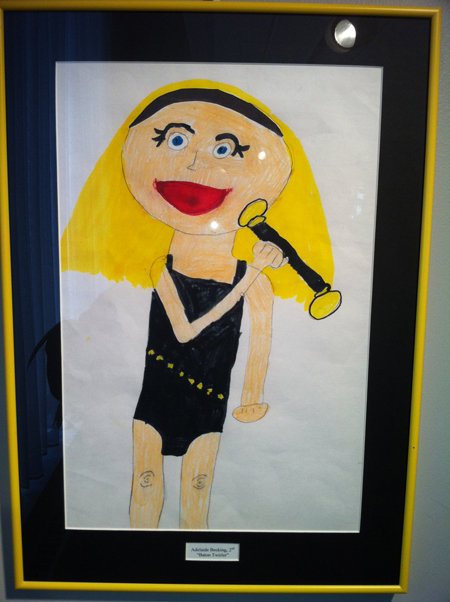 Five years ago, many friends and family combined to contribute time and money to finish a flower garden or three that Sarah had started, as a surprise for her while she recovered from the surprise surgery / diagnosis (which was five years ago today).  As Spring also finally arrives around this time each year, I try to make sure it looks decent again.  It's all in thanks for those that donated at the time, in honor of Sarah still, in order to allow me some time reflecting on everything, and an excuse to be outside during these nice days.  Below are a few pictures of that (imagine everything more fully bloomed, better manicured, and with some real grass growing).  Contrary to a few rumors, none of it is meant to make the house more presentable because we're selling it (we're not).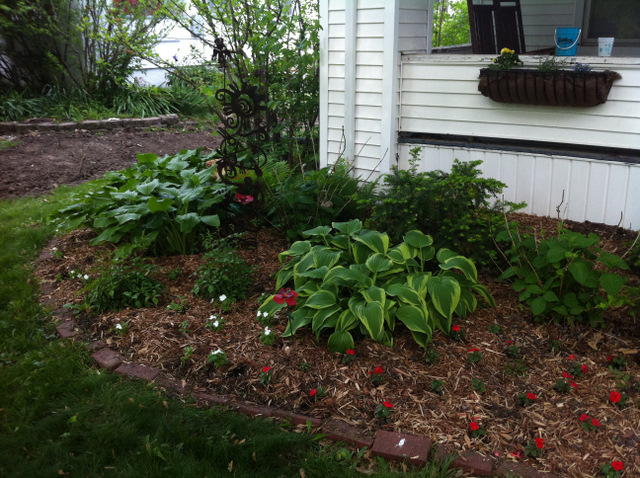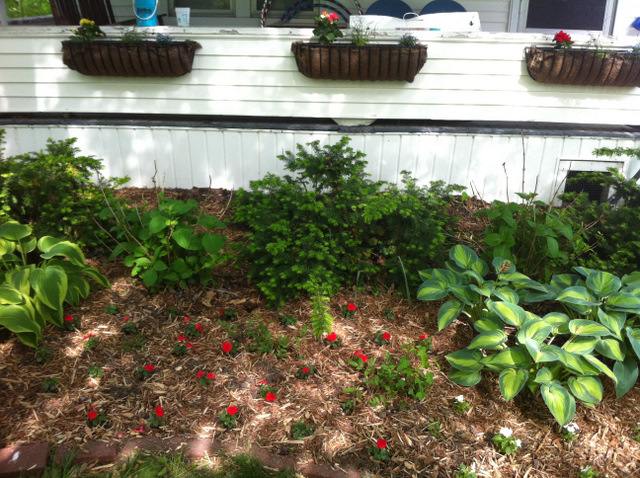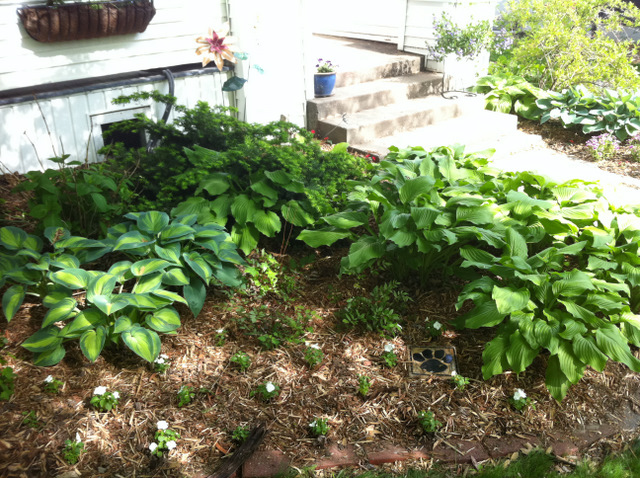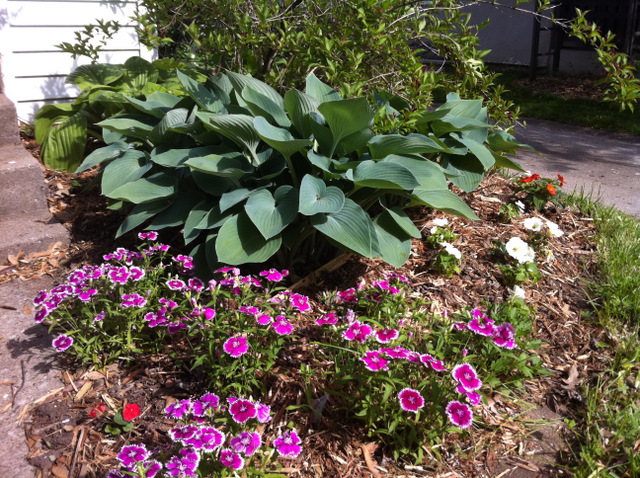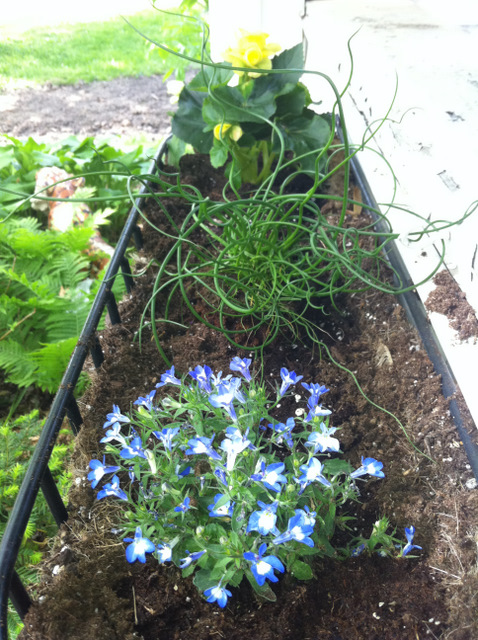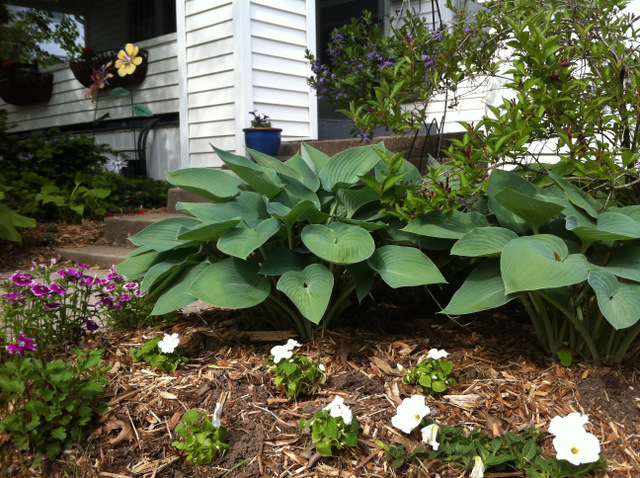 Finally, Happy Mother's Day to all the mothers and grandmothers, but especially to all those in my life.  With the present making at school and the various plans everyone discusses, it's a day/week that I worry about the kids quite a bit.  That worry is mostly pointless, as they continue to do well.  (But what better way to honor their mother than to worry about them.)
As I did last year, used wonders of modern technology to ask a machine to paint a message on a road in France during a stage of the Tour de France.  Lance Armstrong's Livestrong foundation and Nike team up to pull it off.
Below is a pic of the message, which was printed on July 19 for Stage 15 of the tour.  Here is a map of where the note was printed (according to GPS and google anyway).
Last fall the Child Development Center (the pre-school Adelaide & Jack have each attended) planted a memorial tree in honor of Sarah.  In a cool coincidental tie in, the tree was purchased with proceeds from their annual school photo sales.  They installed the plaque a month or so ago, but it's been cold, snowy, dark, and cold and snowy, so was just able to take a photo today.  The colorful Arbor in the background was built by Sarah a few years ago for their playground.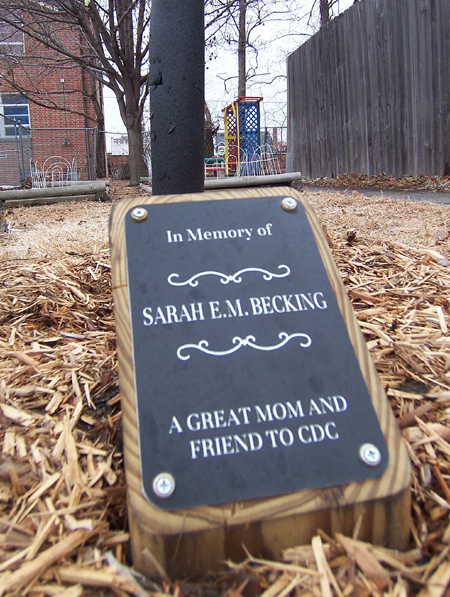 Also, for any that might not have seen yet, I asked Joey Los, a Missouri sculptor that sells her art at Bluestem Missouri Crafts, to make a floral piece for the top of Sarah's memorial stone.  She delivered that in mid-December and I was able to install it easily on one of the rare warm days.  Photos of the floral sculpture are below.   Those photos and more of the memorial stone can all be viewed here.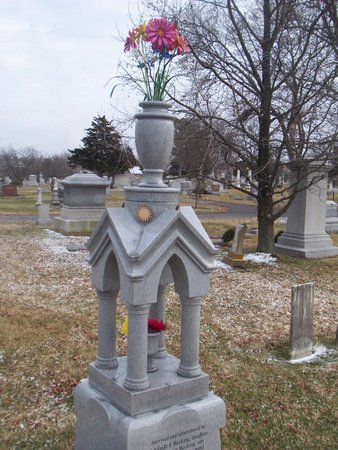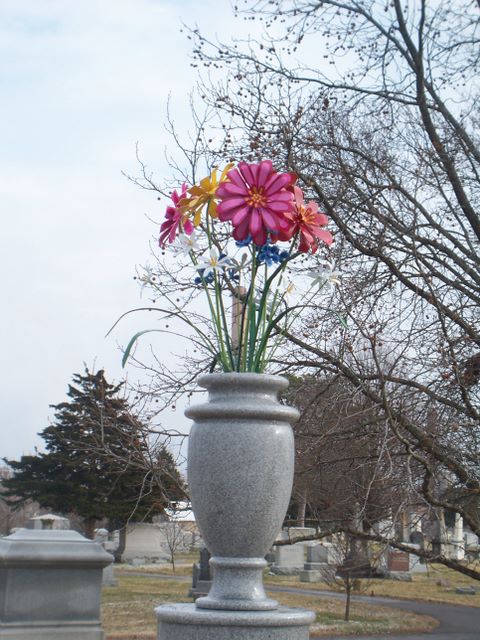 Sarah's monument was installed on Saturday.  Early indications are everyone is pleased.  Below are pics for those not in Columbia. A video of the monument and area is here.
After the 2007 Mizzou football season, Sarah was approached by a gentleman named Darin Wernig, who was hoping to write a book about the season.  It all came together, eventually including both the 2007 and 2008 seasons, with Sarah's photography featured throughout the 2007 portion of the book and on the cover.
The book will be for sale soon via the University of Missouri press.  I received our copy in the mail this week.  Below is the front cover, back cover, and a nice mention of Sarah that appears early in the book.
Huh? You're Saying.
I watch the Tour de France every year, the race amazes me.  It's the reason we have all those high channels on our TV, which now mostly give us Disney XD and other junk.   If you've ever watched, you notice the randomness written on the routes in chalk or whatever each stage.
This year, Livestrong and Nike teamed up to make a "Chalkbot".  You could tweet (use twitter) your message to them, they'd write as many as they could on the course.  Today I received the photo below of the message I'd sent them during the race.  (actually a DM on twitter pointing to a twitpic, just to add some more jargon)
The message was printed here, according to the GPS info anyway.