Archive for the 'Tailgating Fun' Category
Happy Wincoming, Tiger fans. That's right, Wincoming. The wins, they are a coming. Weather is changing, trees, are changing, happiest time of the year, blah blah blah, wins are coming.
Kickoff this Saturday is at 3:00 p.m. as the good guys host Middle Tennessee State. As well all know, Middle Tennessee is not even a state. Wins a coming. (Seriously, Middle Tennessee is pretty good.  But still, wins a coming.)
Bryan Ninichuck and Pat Hanson are smoking ribs and chicken at the tailgate. Thanks to them for the smoke and meat. Call Wingate Pest & Lawn for your pest and lawn needs, then call Clearwater Appraisals to measure the increased value of your pest free, good lawned home.
The entire family went to LSU to watch deux Tigers and then Kim and I went to Florida to watch the Gator Tigers. Kudos to those of you who pointed out seeing us on TV at Florida, sticking around to watch that much of the game. So, yeah, wins are coming.
LSU game day atmosphere was great around the stadium, Baton Rouge in general was blah. Florida's game day wasn't as good, but campus and the area surrounding it were nicer. In all, none of that beats Lot D on a good day. (Although we could stand to learn a lot from LSU gameday atmosphere.) Speaking of good gameday atmosphere, screw ku.
On Saturday the good guys get back to their winning ways, with kickoff against Delaware State scheduled for 3:00 p.m. Here's what I know about Delaware State… they're not Delaware. Delaware is the Blue Hens. Go Tigers, beat the Delaware State Not Blue Hens.
We have multiple youth sports events this weekend, which will interrupt our normal tailgating schedule. We'll still be in the normal spot, there just may not be a body there until around 1:00. From what I know of people coming to the game, there may not be anybody besides Jack & I there ever. No food, just a few drinks, probably no tents or TV, lamest tailgate since 1990-something. Still, come say hi if you like.
Go Tigers, beat the Not Blue Hens, then beat the Geaux Tigers next weekend. Speaking of not blue hens, screw ku.
Football weekend is almost here, Tiger fans. Saturday, the beloved boys in Black & Gold will host our favorite SEC team, the Georgia Bulldogs. Kickoff is at 6:30 again, we'll be in D Lot a long time before that. Hot dogs and fixins from Just Jeff's will arrive around 3:00. As mentioned most weeks, sides and desserts are good bringing options if you're looking for them.
Back to the Bulldogs and their favored status. They seem to like us, probably mostly because we haven't beaten them enough. Another notch in our column on Saturday to add some hatred into their mix. We like them, mostly because they were our first-ever SEC game. Everyone was so happy to be out of the Big Mathematically Challenged Conference that we were glad to see anyone from the SEC. Mix that with concerns over being nice/southern enough to fit in and drastically overstated tales of how well the SEC teams would all travel, and Columbia and all her residents were ridiculously nice to anyone wearing a stitch of red that weekend.
The next year, UGa fans were the same nice folks to Mizzou fans in Athens. For example, Kim & I arrived to town around 11:00 p.m. and immediately went to downtown Athens that weekend. The first person we talked to was a hot dog cart vendor, who gave us free dogs as a welcome. Thus, the hot dogs for tailgate this week. And, you know, eat is to hot dogs as beat is to Bulldogs. Any way, we like them, they like us, but after we beat them on Saturday night, they'll like us less. And we'll be full of hot dogs.
Also, it's Tiger Stripe attire game again. So, dress in Black/Gold as appropriate. On a side note, screw ku.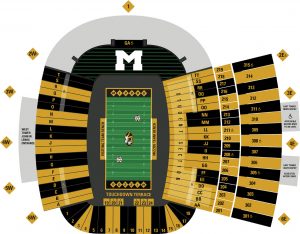 Happy New Year Tiger fans!
Saturday, our beloved Tigers open the season at home against the Eastern Michigan Eagles. Kickoff is at 6:30 p.m., we'll be tailgating long before that in the typical spot in Lot D. Ribs from Southeast Missouri are the main fare. Sides and desserts are always good bringing options if you're looking to bring something. Come when you will.
Some might say that Mizzou opened their season last week. Those people are fools and liars. Same folks would likely also tell you that West Virginia is in the Big 12. Dopes. That game was an exhibition to get ready for the real season, and to make the Big 12 (dopes) feel better about themselves. After the Tigers win 12 straight here to claim the SEC Championship, the Big 12 can crow about how they beat Mizzou. It was a little act of charity toward the beat down formerly great conference, that's all.
As for this week, here's what I know about the Eastern Michigan Eagles: their logo is an E. Go E's. And on a side note, screw ku. Here's to getting that losing streak going again.
It's Friday, Tiger fans,
Tomorrow our beloved Tigers will host the Tennessee Volunteers, with kickoff scheduled for 6:15 p.m. Bryan and Val Ninichuck are providing food this weekend, via Lee's Famous Fried Chicken. Lee's is bringing chicken, green beans, biscuits, and mashed potatoes. Food will arrive around 2:00, I'll arrive long before that. As typical, sides or desserts (or blankets) would be good items to bring if you're bringing. And call Wingate for all your pest control and lawn care needs.
The final home game of the year is always bittersweet. Old people crying, stealing rocks, and wondering when we'll be at Faurot again. And that's just me, the players do some of that too.
This year 21 seniors (listed below) are playing their final home games, some guy named Pinkel will also be coaching his last home game, Mizzou is honoring the 2005 Independence Bowl team (hi Brad Smith!; T-Rucker is going to run over people on a fake punt for fun, etc.), and we need a win to qualify for a bowl this year. Hello Shreveport, nice to see you again. That's one reason to attend for every degree it will be.
Finally, if you haven't already, you should read Dave Matter's piece about a private conversation he had with Coach Pinkel way back. I've got a couple of similar stories myself about Coach Pinkel, several of the other coaches and their families, and several of the players' families. In all, a group of people that I hope are all still coaching here when the new guy comes in. But at least some of them likely won't be, so come cheer for them too.
go Tigers, beat Tennessee, dress warm, go in early, and cheer loud. on a side note, screw ku.
Thank you seniors:
PK Andrew Baggett (Lee's Summit, Mo.)
QB Corbin Berkstresser (Lee's Summit, Mo.)
C Evan Boehm (Captain from Lee's Summit, Mo.)
LB Kentrell Brothers (Guthrie, Okla.)
FS Cortland Browning (Tyler, Tex.)
OL Taylor Chappell (Canadian, Tex.)
CB Kenya Dennis (Captain from Leland, Miss.)
TE Clayton Echard (Eureka, Mo.)
LB Clarence Green (Clute, Tex.)
OL Mitch Hall (Russellville, Ark.)
TB Russell Hansbrough (Captain from Arlington, Tex.)
OL Jordan Hill (Lee's Summit, Mo.)
TB Tyler Hunt (Huntsville, Mo.)
WR Wesley Leftwich (Columbia, Mo.)
OL Connor McGovern (Fargo, N.D.)
CB DeAndre McKenzie (Lee's Summit, Mo.)
OL Brad McNulty (Allen, Tex.)
OL Nick Monaghan (Darien, Ill.)
FS Ian Simon (Captain from Mansfield, Tex.)
TB Andrew Stevens (St. Louis, Mo.)
DB Trei Walton (Northville, Mich.).
Happy Friday, Tiger football fans!
What's that, not Friday? Pshaw, I say. Game day tomorrow means Friday today.
Tomorrow night, the Tigers host the Bulldogs from Mississippi State University, with kickoff scheduled for 8:00 p.m. The Tigers are 0-2 all time at home during Thursday night games and 2-0 all time against Mississippi State. Here's to 1-2 and 3-0 and TOUCHDOWN PLAYS!!!  Thursday night games mean rain, rain, cold, rain, cold, and rain.  With potentially some craziness thrown in. The craziness shall be the aforementioned TOUCHDOWN PLAYS!!!
Parking lots open at 4:30 tomorrow, so that's when the tailgate shall begin.  Food will be provided by some combination of Sarah Messer and Jessica Robertson. They're bringing hot dogs, chili, accompaniments, and warm beverages. They're also bringing a bucket for you to throw money in, raising money for Armani's Angels — a charity helping people care for injured or ill animals. Other non-chili dog related food items would be welcomed of course.
Now, some might say it's callous to serve hot dogs and beat the Bulldogs while simultaneously raising money for a charity aimed at helping injured dogs. Yes, some might say it's callous. Also, prepare for cowbells during the game, for some unknown reason.
Go Tigers, Beat the Bulldogs!  on a side note, screw ku.
Happy Homecoming week, Tiger fans!
If football season is the happiest time of the year (and it clearly is), then Homecoming weekend is peak happiness period.  It's like Christmas morning stuffed in a Thanksgiving turkey, topped with a pile of Halloween candy, blown up with a bunch of fireworks, then drowned in a giant bucket of Cinqo de Mayo margaritas.  And so on, with some pomping added.  #FOOTBALL!! #Homecoming  #GoldPants? #America
This Saturday, our beloved Tigers host the Gators from Florida.  Kickoff is at 6:30 pm.  We'll be hosting long lost friends and relatives from near and far, so are catering.  Dickey's BBQ is bringing a bunch of meat and some sides, food will arrive around 3:00.  If interested in bringing something, which certainly isn't necessary, appetizers or desserts are probably the items of choice.  Or a turkey stuffed with Christmas presents and soaked in tequila.  I'll be there all day, so arrive when you will.
Florida is pretty good.  But I seem to recall someone pointing out last week that Mizzou would beat the roosters, UGa would get beat, and all would be well.  The all well continues this week, as the Tigers continue confounding the Gators then head to Georgia to beat up a bulldog.  It's a lock.
Happy homecoming.  Go Tigers.  #Chomp  and on a side note, screw ku.
Happy Thursday, football fans,
Our beloved Tigers host the Gamecocks from South Carolina this weekend, kickoff is again at the awful time of 11:00 a.m.  That means breakfast tailgating, which isn't all bad, except that no one shows up.  We'll be bringing some biscuits and gravy and some drinks to warm your blood.
I was in Colorado last weekend, so only watched the first three drives of the game.  So, as far as I know, we won 7-0.  Hooray Tigers!  (Alternatively, sorry about not watching the rest, thereby letting our beloved Tigers down.  My bad, as the kids say.)
Lockily, it all turns our way this week.  UGa will get beat by Bama, we'll win out from here, see you in ATL for the 3rd straight year, suckers.  Just the way we Drew it up.
Go Tigers, kill the roosters and eat them for breakfast before the game is even played and despite the fact that roosters are probably gamey or something, I don't know.  on a side note, screw ku.
Howdy ho, football loving friends,
I've long known there's a football game tomorrow, I'm just late on the email-writing draw.  Our beloved Tigers face the Huskies from Connecticut tomorrow, kickoff is at 11:00.  (or 11:01 or some such.)  To no one's surprise, we'll be there for the tailgate.  Breakfast stuff is the stuff of the tailgate.  Bring some if you like.
I have nothing funny to say about UConn.  I don't like them, so there's that.  But that's not very funny.  The Tigers will win, hopefully in a slightly funny way, to make up for my lack of jokes.  3-0, that's the plan, on the way to 15-0.  go Tigers.
Other important news for tomorrow, it's one again Tiger Stripe day at the stadium.  Sadly, that doesn't mean free ice cream for all.  It does mean you need to check the attached map of the stadium and know where you're sitting, to know what you're supposed to wear.  (if you're sitting with us, wear gold.)
Other important news for tomorrow, the Golden Girls are celebrating 50 years of existence.  Give it up for the Golden Girls!
During Saturday's game, the Golden Girls have a special halftime tribute that should keep Mizzou fans in their seats as the squad will pay homage to all of those who donned the gold sequins over the last 50 years.
Sadly, ku can't lose this weekend, although I did put $20 on BYE just for fun.  screw ku.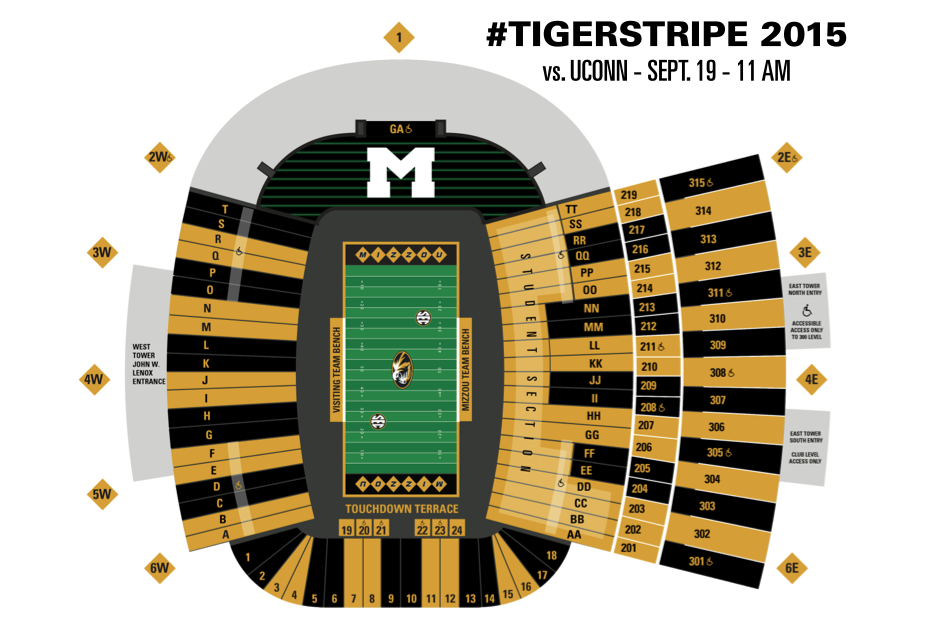 Happy New Year, Tiger fans!
On Saturday, the beloved boys in black & gold (but probably all black) take the field for the first time in too long, hosting the Red somethings-or-other from Southeast Missouri State.  As is traditional for the first game, it will be miserably hot.  Kickoff is scheduled for 3:00 p.m., but I plan to be there well before that.
Tailgate is in the same spot for at least one more year.  My parents are bringing ribs. I'm bringing tents and chairs and tv and chandelier and such.  If you'd like to bring something, a side item or a dessert would likely be eaten.
Beat SEMO, eat Semo ribs.  yay, FOOTBALL!!
p.s. speaking of football, screw ku.