I finally have a scanner operational again, so here's some selected writings from Jack's time in first grade.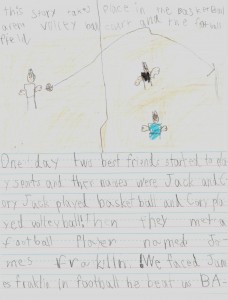 This story takes place in the basketball arena volley ball court and the football field.
One day two best friends started to play sports and ther names were Jack and Cory Jack played basketball and Cory played volleyball!  Then they met a football player names James franklin!  We faced James franklin in football he beat us BA-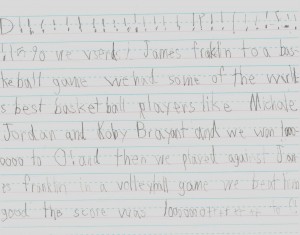 D!!!!!!!!!!!!!!!!!!!!!!!!!!!!  We vserd (versed) James fraklin to a baskeball game we had some of the worlds best basketball players like Michale Jordan and Koby Brayant and we won 10000000 to 0!  and then we played against James franklin in a volleyball game we beat him good the score was 10000000011111111 to 0!
Story 2, The Tryouts.  This one is about when he tried out for Upward Basketball last year. (Also written in 1st Grade)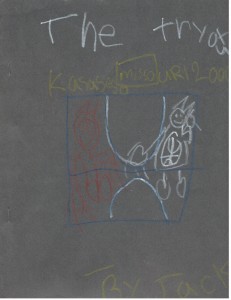 The tryouts
Kasasas 0 Missouri 2000
by Jack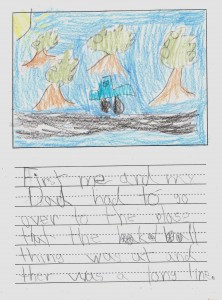 First me and my Dad had to go over to the plase that the baketball thing was at and ther was a long line.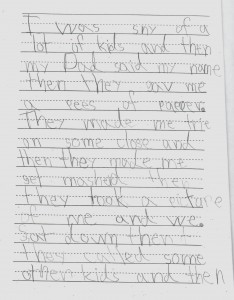 I was shy of a lot of kids and then my Dad said my name then they gav me a pees of paeper.  They made me trie on some close and then they made me get masherd then they took a picture of me and we.  Sat down then they called some other kids and then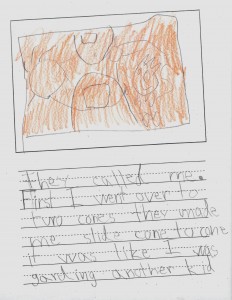 they called me.  First I went over to two cones they made me slide cone to cone it was like I was garding another kid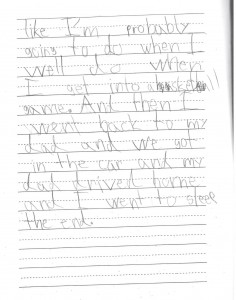 like I'm probably going to do when I well do when i get into a basketball game.  And then I went back to my dad and we got in the car and my dad drived home and I went to sleep the end.
Leave a Reply
You must be logged in to post a comment.