Archive for September, 2016
On Saturday the good guys get back to their winning ways, with kickoff against Delaware State scheduled for 3:00 p.m. Here's what I know about Delaware State… they're not Delaware. Delaware is the Blue Hens. Go Tigers, beat the Delaware State Not Blue Hens.
We have multiple youth sports events this weekend, which will interrupt our normal tailgating schedule. We'll still be in the normal spot, there just may not be a body there until around 1:00. From what I know of people coming to the game, there may not be anybody besides Jack & I there ever. No food, just a few drinks, probably no tents or TV, lamest tailgate since 1990-something. Still, come say hi if you like.
Go Tigers, beat the Not Blue Hens, then beat the Geaux Tigers next weekend. Speaking of not blue hens, screw ku.
Football weekend is almost here, Tiger fans. Saturday, the beloved boys in Black & Gold will host our favorite SEC team, the Georgia Bulldogs. Kickoff is at 6:30 again, we'll be in D Lot a long time before that. Hot dogs and fixins from Just Jeff's will arrive around 3:00. As mentioned most weeks, sides and desserts are good bringing options if you're looking for them.
Back to the Bulldogs and their favored status. They seem to like us, probably mostly because we haven't beaten them enough. Another notch in our column on Saturday to add some hatred into their mix. We like them, mostly because they were our first-ever SEC game. Everyone was so happy to be out of the Big Mathematically Challenged Conference that we were glad to see anyone from the SEC. Mix that with concerns over being nice/southern enough to fit in and drastically overstated tales of how well the SEC teams would all travel, and Columbia and all her residents were ridiculously nice to anyone wearing a stitch of red that weekend.
The next year, UGa fans were the same nice folks to Mizzou fans in Athens. For example, Kim & I arrived to town around 11:00 p.m. and immediately went to downtown Athens that weekend. The first person we talked to was a hot dog cart vendor, who gave us free dogs as a welcome. Thus, the hot dogs for tailgate this week. And, you know, eat is to hot dogs as beat is to Bulldogs. Any way, we like them, they like us, but after we beat them on Saturday night, they'll like us less. And we'll be full of hot dogs.
Also, it's Tiger Stripe attire game again. So, dress in Black/Gold as appropriate. On a side note, screw ku.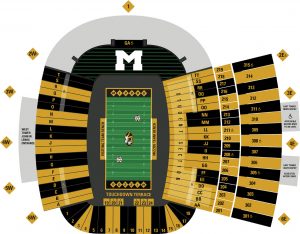 Happy New Year Tiger fans!
Saturday, our beloved Tigers open the season at home against the Eastern Michigan Eagles. Kickoff is at 6:30 p.m., we'll be tailgating long before that in the typical spot in Lot D. Ribs from Southeast Missouri are the main fare. Sides and desserts are always good bringing options if you're looking to bring something. Come when you will.
Some might say that Mizzou opened their season last week. Those people are fools and liars. Same folks would likely also tell you that West Virginia is in the Big 12. Dopes. That game was an exhibition to get ready for the real season, and to make the Big 12 (dopes) feel better about themselves. After the Tigers win 12 straight here to claim the SEC Championship, the Big 12 can crow about how they beat Mizzou. It was a little act of charity toward the beat down formerly great conference, that's all.
As for this week, here's what I know about the Eastern Michigan Eagles: their logo is an E. Go E's. And on a side note, screw ku. Here's to getting that losing streak going again.