Over the past couple of days, whenever I think of Grandpa, for some reason I have two basic visions of him:
 
Grandpa of My Youth
Grandpa of My Kids
 
I don't seem to have many other easy recollections of Grandpa and me as an adult, it's just those two visions.  And of course a lot of those are shared with Grandma.
 
When I think of Grandpa of my youth, I remember a big, towering man.  Tan and strong from life on the farm.  Big forearms.  A tattoo.  Him not taking it easy on me when I was stuck in a game of dominos.  Him coming in for dinner to what seemed like the biggest glass of tea in the history of all glasses of tea.  Seeing them at church and being held in high regard there.  I think of Grandma always calling him "Beck" and me being so dense that I didn't realize until years later that it was a nickname for Becking. 
 
And then I have lots of recent memories with our kids.  Maybe he didn't pronounce Adelaide's name right all the time, but he always tried to engage her.  Or played ball with Jack Thayer, the JT Becking of northern Missouri.  I remember both kids hanging out with him in the sun room, playing whatever games, and having fun.  I remember Grandma and Grandpa talking about their wedding reception once, or maybe a pre-wedding party, and that they had both soft drinks and hard drinks there.  And I was shocked, first because they had "hard drinks".  But mostly because I never realized that's where the term "soft drinks" came from.
 
Yesterday afternoon, as everyone came together at Grandma and Grandpa's house, it just seemed like a day Grandpa would've enjoyed.  There was lots of food, lots of dessert, lots of kids playing.  There were something like 12 of their offspring playing horseshoes at one point or another.  There were people to harrass in every room and in both the front and back yards. 
 
Maybe it comes with age, but I'm less confident of what I "know" now than I used to be.  I do know that Grandpa would've enjoyed yesterday.  I also know that he'd have been outraged to learn I paid $3.89 for gas.  I know that he was proud of Jeannie, Judy, and Barry, and all the grandkids and great-grandkids.  And that he might have pointed out a few flaws in some of us yesterday, had he been able.  I know he was proud of his service in the US Navy.  And I'm pretty sure that he was maybe a little embarassed of whatever they made him do on that ship the first time it crossed the equator when he was onboard. 
 
I don't know, at all, if now was the right time for me and the kids, and all of us, to lose Grandpa Becking.  But I've given up trying to figure out when the right time is.  I know people go out of their way to tell me how wonderful they think both Grandpa and Grandma Becking are, and I'll remember that.  I know Grandpa would've enjoyed being with everyone yesterday, and I'll remember that.  I know that I'll never leave that house without looking over to see him waving at us as we pull away.
Edited to add photo of JT Becking that ran with his obituary, the obituary is listed as a comment here.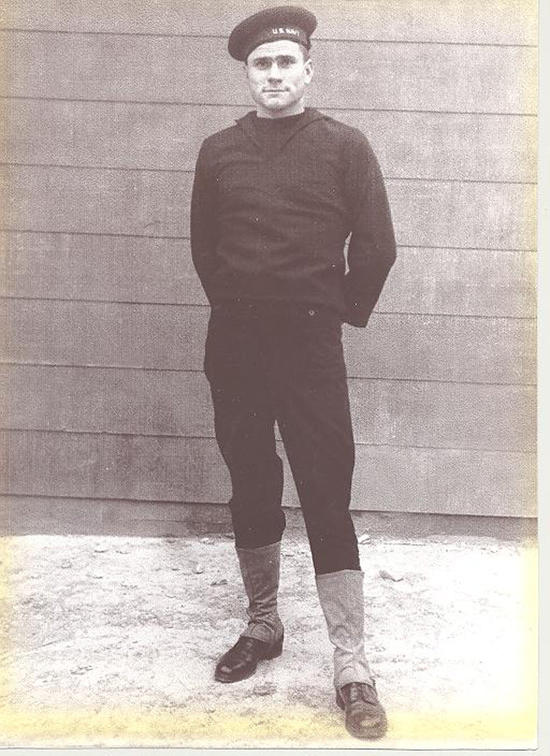 One Response to 'John T. Becking'
Leave a Reply
You must be logged in to post a comment.